Ron Jager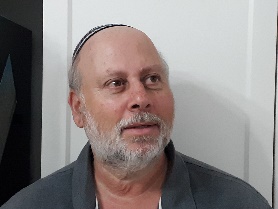 Ron grew up in the South Bronx of New York, making Aliyah in 1980. Served for 25 years in the IDF as a Mental Health Field Officer in operational units. Prior to retiring was Commander of the Central Psychiatric Clinic for Reserve Solders at Tel-Hashomer. Since retiring has been involved in strategic consultancy to NGO's and communities in the Gaza Envelope on resiliency projects to assist first responders and communities. Ron has written numerous articles for outlets in Israel and abroad focusing on Israel and the Jewish world.
Rebranding the Israeli Narrative
The time has arrived to simply stop and read the writing on the wall, assuming it's not too late. We must re-evaluate, re-calculate, and radically change what we do in response to the tsunami of Jew hatred that has swept the world whether it be in Israel or in the streets of Brooklyn, or anywhere in the world. Albert Einstein was quoted as saying that "insanity is doing the same thing over and over again and expecting different results". This is a fair representation of how Jewish leaders and Jewish organizations including Israeli governmental agencies keep responding to today's anti-Semitism with yesterday's obsolete and ineffective apologetic thinking.
Jewish leaders, NGO's, academicians, governmental agencies, and pro-Israel organizations must change and adapt their manner of responding to the anti-Israel and anti-Semitic narratives that have blurred the distinction between classical anti-Semitism, anti-Israel, and anti-Zionism. Jews, Israeli's, and Zionists have all become "guilty by association" of one another. The process of "detoxifying" the Israeli narrative portrayed in progressive circles (including Jewish progressives) must be a strategic goal of the State of Israel. Unconventional yet empirically effective "info-war" techniques should be utilized for their efficacy in changing attitudes, perceptions, and prior biases. Developing. Designing and deploying persuasive/compelling communication strategies should be utilized not only to influence how the Israeli narrative is perceived but critically how one "feels" about them.
The rational and need: The perspective and perception held by NGO's, academicians, the broadcasted and printed media, and social media regarding Israel can be a powerful tool in shaping public opinion. The ideological positions held by many if not most in key positions within the progressive side of the isle demands a radically new approach. The transformation of long held narratives and perceptions requires a pro-active and planned intervention that will result in a shift in long held views and prior biases. Importantly, the narrative representation of reality cannot be evaluated or challenged empirically or with dry facts and "hasbara", but rather whether the message or response is coherent and 'rings true'. The efforts to present the Israeli narrative through the prism of facts and truths has failed to alter or change the progressive understanding of the Israeli narrative.
Today's progressive media organizations blindly and willingly accept and promote the Palestinian culture of deceit. The efforts of the State of Israel to show malice and the lack of factual and historical truth within the Palestinian narrative does not resonate within the progressive mind set and is incongruent to the progressive intellectual predisposition. Due to this predisposition, in the eyes of the progressive world, Palestinian terror is a legitimate response to the continued occupation of the occupied territories thereby absolving the Palestinians of any and all accountability for their actions. Only the State of Israel is held solely responsible and accountable. The logical extension of this narrative leads to the understanding that only the "undoing" Israel's establishment and existence as a Jewish State will satisfy minimum Palestinian expectations and demands.
Information warfare: Propaganda in its most basic form is the use of a public persuasion means for political ends. Propaganda is a type of communication that is primarily used to influence or persuade an audience to further an agenda, which may not be objective and may be selectively presenting facts to encourage a particular synthesis or perception, or using loaded language to produce an emotional rather than a rational response to the information that is being presented.
Propaganda can be found in news and journalism, social media, governmental agencies, advertising, entertainment, education, and activism; often associated with material which is prepared by governments as part of war efforts, political campaigns, and health related campaigns. During the 20th century, the English term propaganda was often associated with a manipulative approach, but historically, propaganda has been a neutral descriptive term of any material that promotes certain opinions or ideologies.
When it is conducted in war, it is called psychological warfare. Although these are the classic definitions, the problem is that the reality is very flexible and changing constantly. Propaganda usually is not about a change from stark black to stark white or vice versa, but rather a strengthening or weakening of positions along the spectrum of conflicting ideologies and is an enormously powerful social science tool. Propaganda can be far more sophisticated than our primitive notion of Hitler waving and ranting. Almost every person is prone to being influenced at some point, yet everyone thinks that they are immune to such persuasion—and that is what makes them so vulnerable to propaganda.
A primary working principle of psychological warfare is to adapt your cause to both the local and contemporary cultures. When the cause célèbre of the 60s was colonialism, the Palestinians played up the notion of Israel as a colonizer; when human rights became the dominant cause, Israel was accused of human rights violations. And although at one time apartheid was only associated with South Africa, once it ended there, the PLO engaged in a "replacement oppressor" narrative with Israel taking South Africa's place as the world's number one purveyor of apartheid. In recent years the Palestinians have shifted vocal support for the annihilation of Israel to Israel being an illegitimate state due to her abuse of Palestinian human rights; same goal, different path to achieve this goal. The easy refutability of these libels have proven to be totally ineffective only because propaganda is about imbuing beliefs and emotions rather than facts.
Persuasion (a palatable synonym of propaganda) is also a powerful social science tool. In the past 150 years, it has developed unprecedently into a powerful social and political weapon. Channeling this technological know-how to develop an operational model that incorporates our ideological and political goals, will enable implementing "info-war" model to our advantage—which in our case is a safe, secure Israel and a safe, secure Jewish people in their respective countries.
In order to be able to overcome and outmaneuver the methodology and tactics that are being used against us, it will be necessary to "reverse engineer" the false and manipulative narratives that have been so successfully applied by our enemies. The State of Israel and the Jewish people around the globe are finally coming to this realization, albeit half a century too late. This fact presents the enormity of the challenges facing Israel and the Jewish world, incorporating all facets of the anti-Semitic, anti-Israel, and anti-Zionist narratives in the converging spheres of; media, social network, academia, progressive politics, social, religious, and cultural.
Anti-Israel propaganda has permeated every single facet of American (and Western) society including: labor (longshoremen's refusal to unload an Israeli cargo ship and a national teacher's union putting to vote a harshly anti-Israel resolution); sports (boycotting Israel at international competitions); cultural events (Roger Waters' campaign to pressure musicians to boycott Israel, and a Swedish art museum glorifying Palestinian mass murderers); higher education (universities outright banning pro-Israel speakers and allowing extremely violent Arab and leftist "protesters" to attack pro-Israel speakers, driving them off campus); science (calls for boycotts of leading Israeli research institutes and termination of cooperation agreements); and numerous other examples. Israel has consistently forfeited her leverage in the world of technology, medicine, research, and military development against supporters and funders of the Palestinian and anti-Semitic coalitions. Without thinking twice or remorse, we simply let them "off the hook" consequentially further empowering their supporters and resulting in even more aggressive tactics/attacks against Jews and the State of Israel.
Progressive narratives embody fundamental assumptions by which any and all actions by the State of Israel are interpreted and presented negatively by the progressive media and within academic circles. Techniques based on Psychological Warfare and the application of "Info war" can provide an effective response to deafen the dissonance that automatically erupts with Pavlovian consistency when pro-Israel, and pro-Zionist narratives are expressed. Continuing on the current path of appeasing those at the forefront of Jew hatred demanding the end of Israel as the nation of the Jewish people, will only wet their appetites to question Israel's legitimacy and continue to threaten and attack Jews wherever they may be. An endeavor of this magnitude can only be executed by Israel's governmental agencies or non-governmental NGO's in Israel who have a formidable reservoir of manpower capability with experience in the field of "psychological warfare" and the "info-war".
Today's "Redemptive Anti-Semitism" - the "Gentlemen's Agreement" is no more
We are seeing the rebirth of Nazi "redemptive anti-Semitism" where all the world's problems are solved by exterminating and purifying humanity of the Jews. Listen to what they are saying.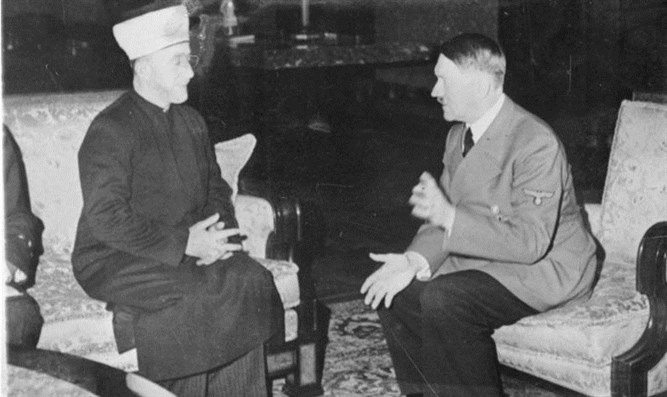 Husseini and HItler
This past week in Israel, and for the Jewish people throughout the world, the Jewish nation as a whole commemorated Holocaust Martyrs' and Heroes' Remembrance Day and tomorrow we will conclude the seven day period by commemorating Memorial Day for the Fallen Soldiers of the Wars of Israel and Victims of Actions of Terrorism. These days of commemoration give personal and collective significance to the 6 million Jews that perished during the Holocaust and give respect to the soldiers here in Israel that have sacrificed their lives so that Israel can be a sustainable and thriving homeland for the Jewish people. A home for all Jews at times of need.
Today, 77 years after the Holocaust, for most Jews in Israel and throughout the world, remembering and commemorating the Holocaust is a fundamental component of what being Jewish means to them. For most Jews everywhere, the sacrifice of fallen soldiers serving in the Israel Defense Forces unifies the Jewish nation as one large extended family who have lost a son or a daughter. Yet, despite history being supportive of our collective historical narrative and Israel becoming a nation admired and respected throughout the world, we have witnessed this past year a kind of pinnacle of anti-Semitism everywhere making the leap from harboring anti-Semitic thoughts to physically attacking Jews, desecrating Jewish institutions, cemeteries, JCC's. Anti-Semites have in a short span of time created an atmosphere of fear and intimidation that Jews are conscious of whenever they leave their homes. Today Jew haters feel empowerment from many sources whether on social media or the printed and broadcasted media and have become more will to act and commit a violent attack on any Jew that crosses their path.
In what is commonly referred to as "the good old days", someone who hated Jews "more than was necessary" was defined as a true anti-Semite. American Jews did not condone it, but lived with it and even thrived. For the past century America was a "safe haven" for American Jews enabling the Jewish community to reach the highest pinnacles of almost all fields of endeavor. Yet with the continuing daily anti-Semitic attacks in New York, Los Angeles, Toronto, Paris, London, and Berlin reaching unprecedented proportions, an updated understanding of how the old or classical anti-Semitism has evolved into the new anti-Semitism namely, "Redemptive Anti-Semitism," is due. In the past we were accustomed to the classical type of anti-Semitism, the "gentlemen's agreement" type of bigotry and discrimination against Jews; residential restrictions, academic restrictions, cultural restrictions, and employment restrictions. We have entered a new era of Jewish hatred that resonates from the past.
As we move back to the future, and as Jews are hunted down and attacked violently in broad daylight on the streets of major cities in America, Canada and Europe, all you have to do to understand this new phenomenon is listen to the declarative pronouncements made by these barbaric mobs of American and European Muslims and Afro-Americans as they viciously attack Jews arbitrarily, viciously, and for no other reason than the fact that they are Jews. They want these Jews to die and they want to annihilate the Jewish community as a whole. These vicious barbarians want to "kill the Jews" with their own bare hands and show their actions to the world through social media.
A relatively unknown historical manifestation links together the radical anti-Semitism of the Nazi ideology and the modern day Jew hatred by radical American/European Muslims and radicalized Afro-Americans. This common bond of "purifying" humanity of any Jewish presence promoted and upheld by radical Islam and the Nazi ideology now spans more than a nine decade period. We can no longer deny the nearly identical ideological and doctrinal models used by the Nazis and modern day radical Muslims and radicalized Afro-Americans who promote the killing of Jews and demand the total annihilation of the State of Israel. The common thread unifying the desire for the total destruction of Jews is shared by both radical Muslims alongside radicalized Afro-Americans and Nazi ideology.
Nazi ideology spoke of "redemptive anti-Semitism", namely a form of anti-Semitism that explains all in the world by offering a form of "redemption" by exterminating and purifying humanity of the Jews. Islamic religious and political leaders broadcast daily sermons of incitement to murder Jews, promising heaven and redemption for those that carry out this call to rid the world of Jews.
Redemptive anti-Semitism" is a theory expounded by the Holocaust historian Professor Saul Friedländer. He maintains that Nazi anti-Semitism was distinctive for being "redemptive anti-Semitism", namely a form of anti-Semitism that could explain all in the world and offer a form of "redemption" for the anti-Semitic person. Friedländer spoke about a specifically Nazi aspect of anti-Semitism. That's the belief in a racial hierarchy, with the "the Jews" at the bottom. It holds that everything wrong with the world, and everything wrong with people, is a result of the malign influence of "the Jews." According to this idea, exterminating the Jews will prevent them from corrupting the world any further and will enable people to be redeemed and purified. Friedlander's use of the term "liberation from Jews" begins with attacks, the expulsion of Jews from their homes and communities and ends with their physical annihilation.
The connection between modern day Islam and the Nazi regime in Germany runs deep, as the Nazis did their best to support through finance and advice the embryonic radical Islamic movements in British ruled Egypt and Iraq through the late 1930s and early 1940s. A key player was the Grand Mufti of Jerusalem, Haj Amin al-Husseini. The Grand Mufti of Jerusalem, Haj Amin al-Husseini met covertly with representatives of the Nazi SS intelligence arm during the late 1930s, and not coincidentally with Otto Adolf Eichmann, who was a German-Austrian Nazi SS-Obersturmbannführer (Lieutenant Colonel) and one of the major implementers of the Holocaust's systematic annihilation and extermination of European Jewry. Eichmann played a central role in the deportation of over 1.5 million Jews from all over Europe to killing camps and killing sites in occupied Poland and in parts of the occupied Soviet Union.
With the British Mandate intelligence services becoming aware of Al-Husseini's clandestine activities, he fled to Germany for the remainder of World War II, remaining active as a propagandist and recruiter of Balkan Muslims into the Waffen SS Handschar and Kama Divisions, used extensively in the latter part of the war, as German manpower available for combat divisions declined. An interesting footnote to Al-Husseini's family lineage; Yasser Arafat, the deceased mass murderer wgi was leader of the Palestinian Liberation Organization, an organization that was dedicated to the murdering of Jews and the destruction of the State of Israel, was a first nephew of Al-Husseini.
The shift of "redemptive antisemitism" from Nazi Germany to the four corners of the Arab world during and after World War II, is not merely a supplementary feature of modern radical Islam, but lies instead at its ideological core and is an antecedent of a modern manifestation of "redemptive anti-Semitism". With its proliferation and exportation and re-introduction into Western societies, "redemptive anti-Semitism" has become rampant among American and European Muslims and radicalized Afro-Americans.
Social media tweets and comments such as "As long as there is Jewish life in the world, peace is not possible." have become the new norm and "redemptive anti-Semitism" will continue to empower Muslims and Afro-Americans to continue their crusade to free humanity as they understand.
There is no Jewish conspiracy to dominate the world, but there is a widespread global anti-Jewish conspiracy based on the principles of "redemptive anti-Semitism". It starts with the Jews but it does not end with the Jews. The first airplane that was hijacked was an Israeli airplane, and today at every airport at every country in the world, we now we line up for security checks, so the world should be concerned. The danger of dismissing the inherent threat of "redemptive anti-Semitism" lies in its danger for the whole world. Until then, Jews will continue to be the "canary in the mine" and bear the brunt of this new/old form of anti-Semitism.
A living legacy of the Shoah; the "Joseph Bau House" Museum
The "Joseph Bau House" Museum located at 9 Berdechevsky Street, in the heart of Tel-Aviv remains as it was, an authentic artist's studio and workshop that conveys the amazing life story of Joseph Bau through his wide range of creativity that dealt with the Holocaust, including paintings, graphics, and publications. Joseph Bau was also one of Israel's earliest creators of animated movies. Joseph Bau was born in Krakow, Poland in 1920 and educated as a graphic designer at the University for Plastic Arts. As the Nazi occupation of Poland became more entrenched, Joseph and his family were deported to the Krakow Ghetto. The German's discovered Joseph's talents and began using him to make signs in Gothic letters and other specialized printed materials. At the same time, while as a clandestine member of the Jewish underground, Joseph used his artistic skills to save the lives of many fellow Jews at the camp by forging false identity documents to help them escape. From the Ghetto Joseph Bau and his family were sent to the Plashow concentration Camp. During his imprisonment at Plashow, he met and fell in love with Rebecca, his future wife (Rebecca and Joseph Bau are the original couple whose wedding was portrayed in the movie "Schindler´s List"). Through Rebecca, Joseph was able to gain a place on Oskar Schindler's list of factory workers that were sent to Schindler's factories in the Republic of Czechoslovakia.
After surviving the war, Rebecca and Joseph left Poland and arrived in Israel during her formative years. Fulfilling his dream of making animated movies in the Promised Land, Joseph established his studio and for over 40 years producing a prolific and significant collection of art, paintings, creative writings, and of course his works of original animated short movies. Israel during the early 1950's, a country challenged by existential threats and far removed from the creative environment of the movie industry, was far from being the ideal place to develop animated movies. With his never ending ingenuity, enthusiasm, and positive approach to life, Joseph scoured the disposal sites of factories that dumped their disabled machines, creating from parts left to waste, working projectors and gadgets to enable him to create literally from nothing, a significant volume of Israel's earliest animated movies. The museum still has the original projectors and equipment that Joseph assembled from useless machinery giving an authenticity to the uniqueness of the period and the dreams of Holocaust survivors.
To make the tale even more astounding, after Joseph passed away, his unique paintings about the Hebrew language were exhibited in the Israeli Knesset in Jerusalem. Joseph Bau's family were invited to a special ceremony, in which his two surviving daughters, Hadasa and Clila discovered that their father, Joseph was clandestinely recruited by the Mossad upon reaching the shores of Israel by Israel's nasal spying agency to forge and recreate documents and assorted materials to assist with Israel's security needs. While Joseph was alive, his family never knew about his clandestine professional career. Only after Joseph's death, it was revealed to them that he had worked for the Mossad as a graphic artist forging documents for Israeli spies, including Eli Cohen and also for the Mossad agents that were sent to capture Adolf Eichmann in Argentina.
Today, the Joseph Bau House Museum is able to share with today's generation a living testimony of the Holocaust and provide a personal perspective of this dark period in Jewish history. This legacy is kept alive and passed on to new generations through his two daughters, Hadasa and Clila Bau. The two daughters have provided audiences throughout the world with a personal perspective of living through the Holocaust and the personal perspective and life story of a survivor. Joseph Bau's works have been displayed in museums and institutions around the world, including Yad Vashem, the Spanish parliament in Madrid, The Art Gallery in Schindler's factory in Krakow, Auschwitz and the United Nations in New York. In Israel, Hadasa and Clila have hosted thousands of visitors over the years at the Bau Museum presented a thrilling and memorable presentation of their parents' life story and the Holocaust from a personal perspective; Joseph Bau's unique research and artistry about the Hebrew language, and the personal journey of survivors once in Israel, marching on in life and giving meaning to the loss of those that perished in the camps. Joseph Bau, in addition to his large body of work that can be seen at the Bau Museum wrote his memoirs about the Holocaust in his book "Dear God, Have you ever gone hungry?"
Hadasa and Clila want to continue to fulfill their mission by sharing their unique family story spiced with the special humor of their father Joseph stemming from his optimistic view of life. The Bau sisters, Hadasa and Clila are struggling to keep their father's legacy on public display. Your support will help to keep the "Joseph Bau House" Museum open for all. TripAdvisor has designated the "Joseph Bau House" Museum as one of Tel-Aviv's top 10 must visits and below is just a small example of previous visitors:
"Excellent presentation by Joseph Bau's daughters. He was an inspirational man who liked to make people laugh even when he was in a concentration camp, and he was a pioneer of modern animation and fonts. Also he made excellent paintings that make you think"

"Very special place telling the story of Shoah , State of Israel, Mossad, animation and all of it having one smiling face- Joseph Bau. Story told by his daughters. Highly recommend"

"Fantastic interesting museum. What it lacks in size it makes up for with a fascinating story highly recommended".

"Very interesting, heartwarming and different. A must for everyone".
To receive more information, schedule a visit, or to communicate with Hadassah and Clila directly, please review below all the necessary contact information.
www.josephbau.com
This email address is being protected from spambots. You need JavaScript enabled to view it.
https://www.facebook.com/josephbauhouse
Donations can be made through the Joseph Bau web site: http://www.josephbau.com/?module=category&item_id=26
U.S. Residents can donate tax free through:
The problem of expressing empathy for the Ukraine
Let it be clear: I unequivocally condemn Russia's military aggression against Ukraine. Russia is grossly violating international law and the principles of the UN Charter. The violence and loss of life that have occurred in various parts of Ukraine over the past days is totally unacceptable. With that being said, the Ukrainian people played a major role in the destruction of European Jewry before, during, and after the Holocaust.
According to the American Jewish Committee, Jews in the Ukraine today generally do not face acts of violence or public condemnations of Israel, although there are reports of looting and threats in Zhitomyr. Instead, "Antisemitism in Ukraine exists in its old 'traditional' and cultural form: the notion that Jews control all money, the media and government, they are greedy, murdered Jesus, and 'suck our blood,'" said Samuel Kliger, AJC's Director of Russian and Eurasian Affairs. The Eastern Orthodox Church of the Ukraine tends to reinforce classical beliefs of anti-Semitism. It has never expunged the deicide charge from its doctrine and sells copies of the anti-Semitic Protocols of the Elders of Zion in gift shops.
For many Jews, the Ukraine evokes memories of pogroms, antisemitism and Nazi collaboration. Between 1.2 million and 1.6 million Jews were killed in the Ukraine during the Holocaust. Moreover, Ukraine has been reluctant to reckon with its role in the Holocaust, including the massacres of Jews by Nazis with the help of eager local Ukrainian collaborators. Almost a million Ukrainian Jews were killed between 1941 to 1944 and buried in thousands of mass graves, including 33,771 Ukrainian Jews who were systematically shot dead and executed by machine-gun fire in a two-day massacre in a ravine just outside Kyiv known as Babyn Yar.
The Jews of Kyiv gathered by the cemetery, expecting to be loaded onto trains. The crowd was large enough that most of the men, women, and children could not have known what was happening until it was too late: by the time they heard the machine-gun fire, there was no chance to escape. All were driven down a corridor of soldiers, in groups of ten, and then shot. A truck driver described the scene:
"One after the other, they had to remove their luggage, then their coats, shoes, and over garments and also underwear … Once undressed, they were led into the ravine which was about 150 meters long and 30 meters wide and a good 15 meters deep … When they reached the bottom of the ravine they were seized by members of the Schutzmannschaft and made to lie down on top of Jews who had already been shot … The corpses were literally in layers. A police marksman came along and shot each Jew in the neck with a submachine gun … I saw these marksmen stand on layers of corpses and shoot one after the other … The marksman would walk across the bodies of the executed Jews to the next Jew, who had meanwhile lain down, and shoot him"
This sordid chapter in Ukrainian history is left out of the public discourse, creating a general apathy about the Holocaust. (Ed. note: When I headed a youth village whose students were mostly Russian immigrants, not one of the highschoolers from Kyiv had ever heard of the Babi Yar massacre). Alongside that apathy, Ukrainian lawmakers have pushed to celebrate some Nazi collaborators as war heroes, trumpeting their anti-Communist battles while ignoring their complicity in Holocaust crimes. The Ukraine continues to resist joining the International Holocaust Remembrance Alliance, the 32-country organization that coordinates international educational efforts. It also has not adopted the IHRA Working Definition of Antisemitism.
In the early 1920s, thousands of Jewish child refugees flooded into Moscow from the Ukraine, fleeing a terrifying series of pogroms. Legendary Jewish artist Marc Chagall remembered giving art lessons to some of the refugees at a Jewish orphanage outside the Soviet capital. He recalled the horrifying atrocities they spoke about — their parents murdered, their sisters raped and slain, and the children themselves chased out in the cold, threadbare and starving. Unlike the Holocaust, this earlier wave of anti-Semitic violence has largely been forgotten by history. Yet at the time, it was front-page news. From 1918 to 1921, more than 1,100 pogroms killed over 100,000 Jews in an area that is part of present-day Ukraine.
One of the earliest recorded pogroms, perhaps the largest single mass murder of Jews in modern history up to that point in time was the pogrom of Proskuriv, a Ukrainian town on February 14, 1919 with 911 listed deaths which historians estimate is only one-third of the actual number of Jews murdered. The Nikolaev Massacre was a massacre which resulted in the deaths of 35,782 Soviet citizens, most of whom were Jews, during World War II, on September 16–30, 1941. It took place in and around the Ukrainian city of Mykolaiv (also known by its Russian name, Nikolaev) and the neighboring city of Kherson in (current) southern Ukraine.
The United States Holocaust Memorial Museum tells the story of one survivor of the Einsatzgruppen (paramilitary death squads of Nazi Germany that were responsible for mass-murder, primarily by shooting) in Piryatin, Ukraine, when they killed 1,600 Jews on 6 April 1942, the second day of Passover: As conveyed by an eye witness survivor:
I saw them do the killing. At 5:00 p.m. they gave the command, "Fill in the pits." Screams and groans were coming from the pits. Suddenly I saw my neighbor Ruderman rise from under the soil … His eyes were bloody and he was screaming: "Finish me off!" … A murdered woman lay at my feet. A boy of five years crawled out from under her body and began to scream desperately. "Mommy!" That was all I saw, since I fell unconscious."
Untold numbers of Ukrainians were collaborators: According to German historian Dieter Pohl, around 100,000 Ukrainians joined police units that provided key assistance to the Nazis. Many others staffed the local bureaucracies or lent a helping hand during mass shootings of Jews. Ukrainians, such as the infamous Ivan the Terrible of Treblinka, were also among the guards who manned the German Nazi death camps. According to The Simon Wiesenthal Center (in January 2011) "Ukraine has, to the best of our knowledge, never conducted a single investigation of a local Nazi war criminal, let alone prosecuted a Holocaust perpetrator."
My father, Joseph Jager, of blessed memory, a Holocaust survivor, was born in Košice, Slovakia. His family had originally emigrated from the Ukraine before he was born. After the war, he had heard from distant family members, that Ukrainian Jewish survivors who had returned from the concentration camps to their villages in the Ukraine were murdered by local Ukrainians after expecting to be given their homes back, now occupied by local Ukrainians.
In recent years, the Ukrainian government has not objected to Israel being singled out and condemned by the United Nations and has voted on numerous votes against Israel.
Ukrainian complicity in the genocidal murder of Jews over the past century has been documented without question.
I harbor genuine ambivalence in expressing empathy for the Ukrainian people.